With kitchen being one of the most used part of the home, everyone deserves a glamorous modular kitchen design which let's them enjoy spending time in. Apart from the functioning appliances, what's also important is the modern kitchen design that you'll cherish for years. We have come up with different modular kitchen designs that will help people optimize their own and get themselves a glamorous treat. From uber-glam counter-tops to classic backsplashes to whimsical lighting, we've got all the kitchen revamping inspiration you could ever need.
With cool new kitchen brands popping up and lots of innovative design ideas and clever twists on old appliance designs on display in kitchen showrooms across the country, there are plenty of on-trend looks and state-of-the-art appliances to pick from.
While small apartments and homes offer plenty of charm, they tend to be lacking when it comes to kitchen space. Luckily, there are tons of small kitchen ideas that maximize storage and efficiency. It's all about working with the layout of your space, whether your kitchen is confined to a single wall, U-shaped, or tucked in a corner.
1. MARBLE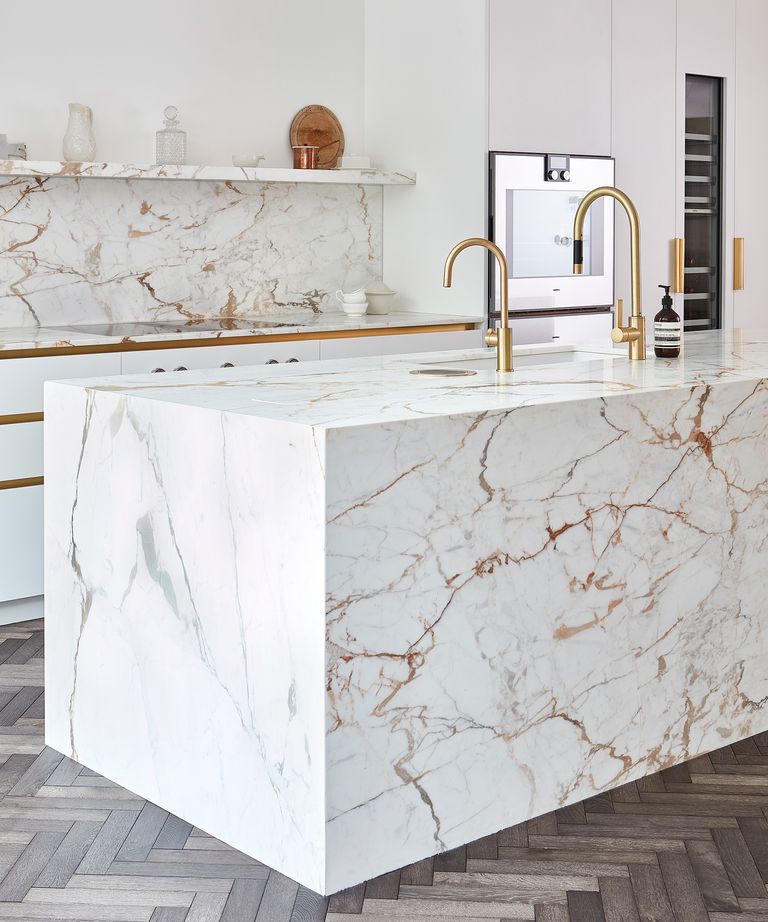 It's the time of strongly veined marble, the busier the better for unmissable luxury and next-level style. If there's one thing that's storming the style charts and shaking up interiors, it's the return of marble.
As an architect Natalia Miyar has a great passion for materiality and uses the finest, high quality materials in her design schemes. She says 'heavily veined marble is making a significant comeback in the design world and has become synonymous with high-end luxury.' A popular choice for kitchens and bathrooms, it is also highly sustainable; its durability, classic attributes and ability to withstand passing trends makes it a good investment.
Marbles with naturally strong veining add statement value and create a textural contract between other polished surfaces, metals and woods. Within a kitchen, Natalia uses marble to create an elegant bath, an eye-catching sink or a kitchen island.
2. DOUBLE ISLANDS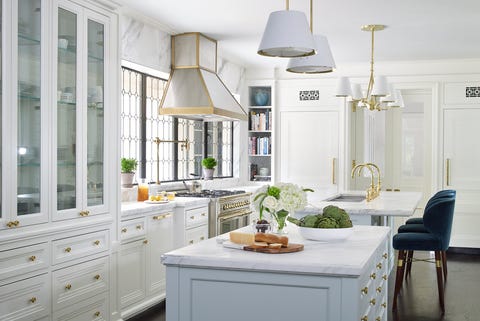 "Expanding a kitchen's function and maintaining traffic flow, double islands in the kitchen are an integral feature. They're a convenient way to divide the area between meal preparation and serving or gathering. With the addition of dual sinks, cleaning up is a breeze!" —Courtney Hill Fertitta of Courtney Hill Interiors
3. SINK SKIRT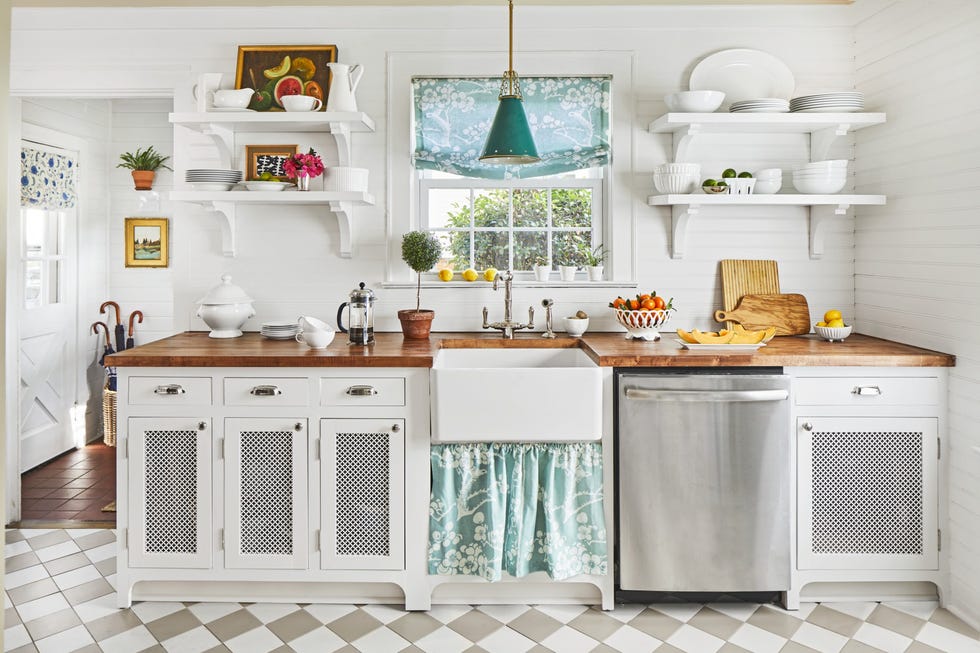 Achieve ultimate farmhouse-chic status with patterned fabric to make a sink skirt that looks vintage and sweet.
4. SLEEK CABINETRY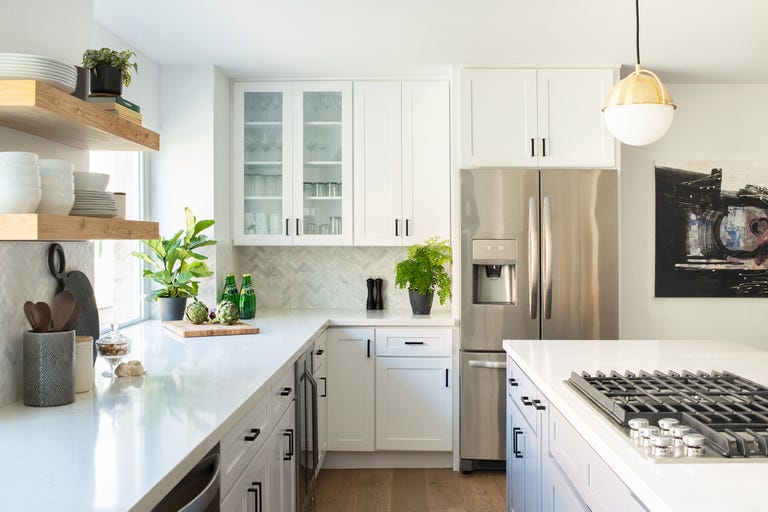 "I'm seeing less and less crown moldings used on the tops of the upper cabinets. Clients are opting for a cleaner look that isn't too decorative at the top. It also can help with adding more storage space to cabinetry, because then you don't have to worry about giving an interior shelf to the molding." —Linda Hayslett of LH Designs
5. MIXED MATERIALS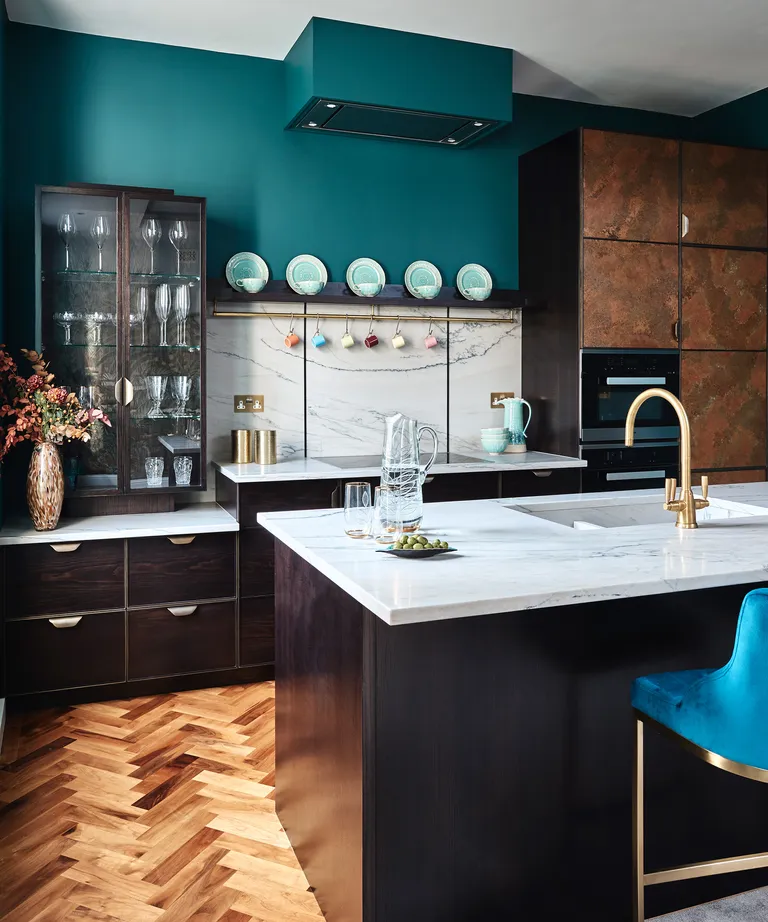 Contrast is king when it comes to mixing materials; the trick is to make sure that every material used encourages the others to really sing.
Brass and steel married with marble and dark timbers prove a winning formula in this luxurious and vibrant family kitchen by Ledbury Studio.
'Use a fusion of tactile materials to achieve a confident blending of styles,' advises architect Natalia Miyar. 'Marble, wood and metallics complement each other well with different shades of wood and metal often bringing warmth and contrast to a cold marble surface.